Co-working spaces provide a number of solutions for modern businesses, freelancers and entrepreneurs. When flexibility and cost-cutting is a priority, shared office spaces ticks all the right boxes.
There are also various ways for you to rent a flexible workspace; hot desks, fixed desks and private offices. The option you choose depends on your business needs.
To paint the bigger picture, this article will address the differences between hot desks and fixed desks and list the advantages of each. You can then choose the option which is most appropriate for your needs.
What is a Hot Desk?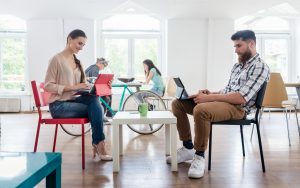 Hot desking is a fairly recent evolution that breaks from the traditional office set up. Essentially, a hot desk can be used by anybody. The first person to arrive at a desk in a shared office space has a place to work for the day. The same desk may be occupied by someone else the next day and so on.
The concept was originally designed to provide creative freelancers and entrepreneurs with an office environment to work in and network with other creatives.
Businesses that want to cut the cost of owning offices are also taking advantage of hot desking. They give your employees the flexibility to work in the office or away from the office.
What is a Fixed Desk?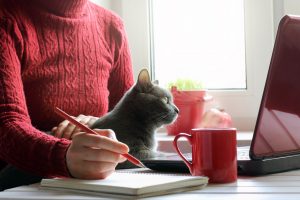 Fixed desks are closely related to the conventional office model of positioning employees in a dedicated space. The major benefit of a fixed desk is you have your own space and know where everything is.
The concept of a fixed desk is mostly appreciated by employees that feel settled in one place rather than moving around all the time. Being in different places every day can overload the sense and distract the mind – which has a negative impact on productivity.
In contrast to hot desks which fosters collaboration and gives you the opportunity to meet new people on a regular basis, fixed desks ensure you are around the same people every day which helps to create lasting bonds.
Hot Desks v Fixed Desks: Which is right for my business?
Whilst the choice of hot desking or having a fixed desk can be a personal choice, if you are a business with multiple employees, you may want to have the option of both.
Below, we have listed the advantages of hot desks and fixed desks so you can see the benefits of each more clearly. All you have to do is decide how many you will need of each.
Advantages of Hot Desks
Hot desking is less expensive than fixed desks and private offices because you are essentially using less space.
More potential to meet new people and make new friends, job opportunities and share ideas.
Gives your staff more flexibility to work from other locations if they do not want, or need, to be in the office. With our Pay-As-You-Use policy, hot desking also helps you to cut costs.
Advantages of Fixed Desks
You can create your personal space that is comfortable and familiar to you.
Enables you to keep your equipment in the workplace without having to carry it to and from the office every day. This also gives you more flexibility to enjoy your social life before and after work.
Avoids disrupting your rhythm if you can't find your hot desk when you arrive at a new shared office space.
Once you've decided whether a hot desk or a fixed desk is best for you, browse through our global partners and book your workspace today. We have thousands of desks to choose from!